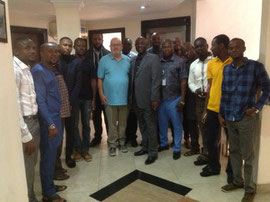 Since many years the Nigerian Ports Authority and Skilltrade have a good relationship. Skilltrade has trained several of their surveyors at Category B level. Skilltrade has also organised some summer courses, mostly related to dredging aspects.
Various survey departments of the NPA required additional new recruits, Skilltrade suggested to run a local, 2-week Advanced Introduction Course Hydrography. The aim was to make all recruits aware of hydrography and future developments of their career. Our Cat B instructor Gerard Mallee (former employee IHC systems) gave an introduction to hydrography. Next to this programme we added single - and multi-beam, Coastal Zone, Dredge Track Presentation System (DTPS), vessel installation & fault finding and telemetry.  Students also had to complete a practical task as to work out this collected data.
Johan Stam provided more information about the IHO and the Skilltrade Cat B course of 30 weeks. Special attention was provided about the e-learning modules as the students might be selected to continue for the CAT B in total in the future.
After daily tests and an exam on the last day, we were pleased to present the students' results to the NPA management. The NPA presented all students a Skilltrade certificate of completion.
We are confident that we will welcome some of these students at the Cat B course in The Netherlands.